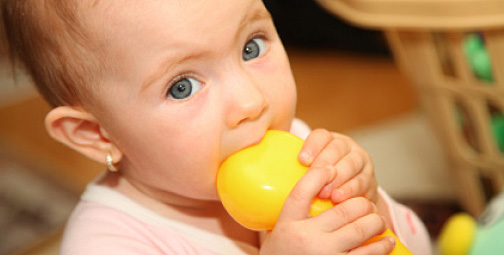 Polyvinyl chloride (PVC or vinyl) is the most toxic plastic for our health and the environment. For more than 30 years, leading health, environmental justice, and health-impacted organizations across the country and world have been campaigning to phase out this poison plastic.
During its lifecycle — from production to use to disposal — vinyl releases some of the most toxic chemicals on the planet that have been linked to cancer, birth defects and other serious chronic diseases. The production of vinyl has poisoned and contaminated workers and fenceline communities in places like Cancer Alley Louisiana and Texas. PVC production releases dangerous pollutants including vinyl chloride, ethylene dichloride, mercury, dioxins and furans, and PCBs.
Vinyl plastic products expose children and all of us to harmful chemical additives such as phthalates, lead, cadmium and organotins — all substances of very high concern. The disposal of PVC waste in landfills and incinerators release dioxins and furans, which are chemicals that have been targeted for international phase-out by over 170 nations around the world. When PVC burns in accidental fires, dioxin and other dangerous chemicals are released posing deadly hazards to building occupants and firefighters.
In sum, there is no safe way to manufacture, use or dispose of this highly hazardous plastic.
For the latest news and to get involved, visit the Center for Health Environment and Justice PVC-Free Campaign.
Videos
Blue Vinyl: A Toxic Comedy — Sundance award-winning and Emmy nominated film by Judith Helfand and Daniel B. Gold
Three minute video, Sam Suds and the Case of PVC: The Poison Plastic
Trade Secrets — Bill Moyers' PBS expose about vinyl plastic
Companies
In response to vinyl's toxic lifecycle, many of the world's largest Fortune 500 companies have adopted cutting-edge policies to phase out and eliminate its use. From big box retailers such as Target, Ikea and H&M, to electronics firms HP and Apple, to healthcare institutions such as Kaiser Permanente and auto manufacturers Volkswagen and Honda, there is a major global market movement away from PVC. See the factsheet, PVC Policies Around the World.
Fact Sheets
Our Health and PVC: What's the Connection?
Phthalates
Breast Cancer Fund on Phthalates
Campaign for Safe Cosmetics on Phthalates
Environmental Justice
PVC in Building Materials
PVC Flooring and Toxic Cleaning Products
Toxic Chemicals in Building Materials: An Overview for Health Care Organizations
PVC in Electronics
Why PVC Should Be Phased Out of Electronic Devices
PVC in Medical Devices and Hospitals
DEHP Exposures During the Medical Care of Infants: A Cause for Concern
Health Care Institutions Moving Away from PVC and DEHP
Why Health Care Is Moving Away From PVC
The Weight of the Evidence on DEHP: Exposures Are a Cause for Concern, Especially During Medical Care
PVC in Schools
From Cancer Alley to Your University: Environmental Injustice and the Campaign for PVC-free Schools
PVC, the Poison Plastic – Unhealthy for Our Nation's Children and Schools
Top Ten Reasons Your School Should Go PVC-free
Reports and Resources on the Hazards of PVC
Affidavit of the NY Attorney General's toxicologist on the hazards of PVC
Aggregate Exposure to Phthalates
APHA Resolution: Reducing PVC in Facilities With Vulnerable Populations
The Burning Question – Chlorine and Dioxin
Chlorine, Combustion and Dioxin
Environmental Impacts of PVC Building Materials
Hidden Hazards: Toxic Chemicals Inside Children's Vinyl Back-to-School Supplies
Industrial Sources of Dioxin Poisoning in Mossville, Louisiana
Message in a Bottle: The Impacts of PVC on Plastic Recycling
Toxic Transformers – A Review of the Hazards of Brominated and Chlorinated Substances in Electrical and Electronic Equipment
Toxic Toys R Us: PVC Toxic Chemicals in Toys and Packaging
Volatile Vinyl: The New Shower Curtain's Chemical Smell
Finding Safer Alternatives to Vinyl and Phthalates
Alternatives to PVC and DEHP in Healthcare
Back to School Guide to PVC-free School Supplies
CHEJ Guide to PVC-free School Office Supplies and Building Materials
CHEJ Resource Page on Alternatives to Vinyl
Green Building Alternatives to Polyvinyl Chloride: Building Materials for Health Care
Greenpeace Guide to Greener Electronics
GreenScreen for Safer Chemicals
Healthy Business Strategies on Transforming the Toxic Chemical Economy
Pass Up the Poison Plastic: the PVC-free Guide for Your Family and Home
PVC-Free Alternatives Database
PVC-Free Pipe Purchasers' Report
PVC Medical Devices Containing DEHP: Guidelines for an Audit
Resilient Flooring & Chemical Hazards: A Comparative Analysis of Vinyl and Other Alternatives for Health Care
Organizations and Resources to Learn More
Center for Health, Environment & Justice
Electronics TakeBack Coalition